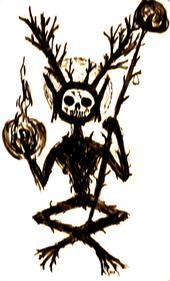 Wicked Messenger Equipment
Electric Guitar
Voice
Violin
Flutes
Bells, Percussion and makeshift instruments
Biography
Martin Kränzel, born 1972, lives in Hamburg since 1992.
First musical attempts at the age of 13 or 14.
Played guitar for several bands, among them grindcore band "Polluted Minds" (1988/89), and bass in industrial/avant-garde duo "Säubrenner" in 1992/93.
Deejayed in the years 1994 to 1996. Founded "Cross Fade Enter Tainment" (CFET) together with Christoph De Babalon in 1994. Left CFET in 1996.
In October 2006 Martin gave birth to WICKED MESSENGER.
Discography
A Three-Eyed Fox Lurking In The Serpent's Throat
(Self-released, CDr, January 2007)
Phoenix (Pseudomonarchia Daemonium Vol. XVIII)
(Bone Structure, CDr, June 2007)
The River Disappeared Sidewards
(Plague Recordings, CD, October 2007)
The Faces Trilogy Part II split-album
(Bone Structure, CDr, November 2007)
Black Tourmaline
(Plague Recordings, CDr, January 2008)
Tracks appear on
Moon Patrol Compilation
(Alampo Records, CDr, October 2008)
Some Reviews
THE RIVER DISAPPEARED SIDEWARDS
This is Wicked Messenger's third release and I have been lucky enough to have reviewed the previous two efforts elsewhere (the self-released "The Three-Eyed Fox Lurking in the Serpent's Throat" demo & "Phoenix (Pseudomonarchia Daemonium Vol XVIII)" released on Belgium's Bone Structure)) and to have followed his evolution as an artist developing his style and approach to music. But unlike the previous two, I have to admit that I struggled somewhat to find the words to write, to relate what I was hearing with the track titles and then to verbalise my reactions. But no such luck here – so I just completely ignored the track names and just went with what I felt.
Martin Kränzel, the directing force behind this outfit, has definitely developed an instantly recognisable sound, a feat very difficult in an over-subscribed market. Once again we have the low bass rumblings and the swirling miasmas and cataclysmic crashings and inhuman demonic voices and it all adds up to a powerful sequential sonic narrative of how the universe came into being, the soundtrack of creation and I felt that I was there witnessing it, seeing it with my own eyes and feeling it on my skin. This is the exact moment of the start of time & existence, the placeless point at which everything had its ultimate origin, the gods, angels & demons and the galaxies, stars, black holes, asteroids, comets, planets and dust clouds. First there was nothing, just a single point of potential. And then the powers started gathering, building strength upon strength, slowly transforming into an ecstasy and frenzy of activity. The power is tangible and palpable, primal, demonic even – it informs every second of this album and you feel it in every pore and in every fibre of your being. I could almost feel the blast of fiery heat as hot roiling dust clouds rolled and stretched lightyears into the aether and I could see untrammelled chaos running riot as atoms frenetically collided with atoms, as particles of radiation zipped through tenuous newly-formed matter, assembling and dissembling, sending other particles careening off on their own frenzied trajectories in an effort to fill every available corner of infinity. And just like those atoms and particles the sound on this album seems hellbent on filling every space in the entire universe not taken up by matter already. The sounds swirl and coalesce, chasing and crashing against each other, colliding and breaking apart and reforming. By turns violently active and quiescent, on the surface you see the gargantuan but simple structures unfolding, but underneath is the real act of creativity, new elements being created at every turn and micro-structural changes effecting bigger transformations elsewhere. This is what the best dark ambient is eminently capable of being and doing, of appearing superficially simple in the larger view but peering deeper we inevitably see the subtle nuances and details that provide the framework for those deceptively simple structures. What WM has done is to effectively transcribe simultaneously those vastnesses and microscopic details into sound, conjuring up both vast galactic spaces and the dance of atoms.
One day I feel, a 'major' label is going to pick up on this act and do it justice. This is not to say that Plague haven't done a good job of presenting and producing this CD – in fact quite the opposite, and they are to be particularly commended for using J of Kaniba's rather stunning monochrome artwork for the cover (and paralleling the music in that it is superficially simple but look closer there are subtle details). They are also releasing WM's next offering "Black Tourmaline" later on this year/beginning of next so if this is anything to go by we have much to look forward to, and that also goes for any new material beyond that release. Watch this space is my advice.
Rating: 8.5/10
[S:M:J63], Wounds Of The Earth, 03 Dec 2007,
http://woundsoftheearth.com/reviews/wickedmessanger_riverdissapeared.html
Wicked Messenger, "Black Tourmaline"
Using mostly guitar, Martin Kränzel explores foreboding vistas on his latest album as Wicked Messenger. He makes the instrument almost unrecognizable in his depiction of gathering darkness and thunderous portent. Heavy and chilling, these five tracks do an excellent job of sustaining a mythology of dread.
"I" begins the album with a vast, cavernous gasp and quiet demonic communication hinting at the abyss, surrounded by the moans of dusty fallen angels. The music burrows into a black hole, slowing time and twisting it mercilessly, gathering momentum in its destruction. The rocky movement of thunderclouds forms much of "II," aided by a slow incantation and the screeching wails of thwarted steel. "III" starts with electric rustling from a high voltage field that's soon overtaken by a carnivorous maw and the yawns of a blind megalithic god awakening from slumbering darkness. Gaseous forms coalesce into sentience in "V" as a patient blacksmith toils in the background. The only track that seems a little out of place if only because its brevity and subdued atmosphere is "IV," which seems to heighten expectations for an arrival or the dawning of something that never happens. Yet this track isn't bad, merely different, and doesn't subtract from the album's enjoyment in the slightest.
Music with such malevolent droning ambience is often easy for musicians to create but fairly difficult to do well, which makes Black Tourmaline one of the rare exceptional works in this crowded field.
Written by Matthew Amundsen
Sunday, 12 October 2008
http://brainwashed.com/index.php?option=com_content&task=view&id=7167&It...